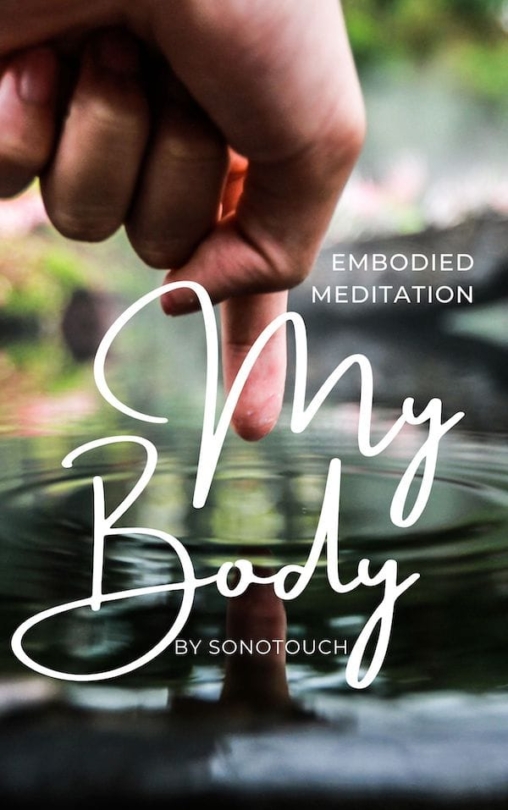 What is My Body?
My Body is an audio and physical experience that guides you gently via relaxation, story, and awareness practice. My Body uses music, voice, language, binaural beat technology, and pace to learn and experience progressively more courageous embodiment with no feelings of loss or shame. My Body is designed to be experienced over and over again while you launch on your own life journey of personal growth, awareness, and pleasure.
Why Did I Make My Body?
My Body is my first SonoTouch project. In tackling this project, I wanted to dive deeply into the embodiment of our common human experience. I don't know a person — including myself — who doesn't live with some measure of struggle with living in their body. This really is a big deal. People live with everything from, "I can't do a thing with my hair," to "I live in daily pain," to "I was born in the wrong body." My Body doesn't attempt to undo any of that or persuade at all. Instead, a person gently, but bravely ascends into an experience of squaring with our own body and the embodiment we possess right now today. Not hoping, not promising, not pretending, we take courage and find peace right now. My Body was tested and overwhelmingly recommended by a diverse audience of several genders before release.
Who Is My Body For?
Anyone who lives or would like to live in a body. Gender, sexual orientation, or identity don't figure here. People with penises or people with vulvas all enjoy My Body.
Some Possible Transformations from My Body
Increase by increments awareness of in-body dwelling
Recognize sensations of complete embodiment
Learn techniques of embodiment without judgment
Learn techniques for progressive relaxation
Order Your Copy
Stream or download. MP3 works on any electronic device
Use stereo earbuds or headphones for the best experience
25 minutes
$15
Order and enjoy in less than two minutes!