Hey Guy! Read this right now.
I'm certain it will snatch you
from a sexual rut.
Now you can confidently take your guy sexuality in hand and make it the adventure it was created to be!
Do you feel like you're missing something sexual? Is your guy sexuality suppressed? Have you tried to grow your sexuality only to have it fall back into the same old routine? How do you describe your sexual emotion?
Guilt?
Frustration?
Loneliness?
Boredom?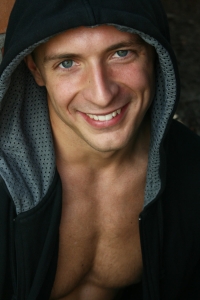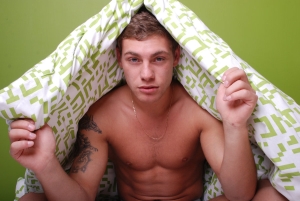 Sure! I've been there. Done that.
Honestly, I think every guy has.
Like it or not, sexuality is a fundamental part of us as guys. It's an enormous part of our thinking, our emotion, our spiritual life. Hardly anything we do isn't somehow wrapped up in our sexuality.
Face it. We're hardwired sexual.
But isn't that fantastic?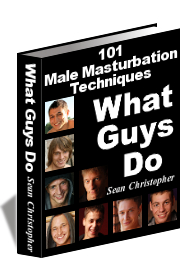 Yet, if you're like me and a zillion other guys, you struggle with what to do with the sexual part of you. Call it what you want — needs, fulfillment, expression, drive. It's something you love, yet something you hate.
And as far as our society is concerned, your sexuality is something you need to suppress.
….Or recklessly assert in dozens of places with dozens of people.
So there's a disconnect between your personal guy sexuality and the sexual picture others think you should fit into.
Isn't there someone who thinks about sex the same way you'd like to think?
A resounding Yes! I'm there with 'ya!
It's me again, Sean Christopher, and I'm Giving You More Straight Talk about male sexuality in this beautiful book!
What Guys Do: 101 Male Masturbation Techniques
For less than the price of a pizza, you'll be tugging a new way every night! Scroll Down and Order… or do you want to read more? Read on…
Here's The Problem
You've made agreements with those who form your guy sexual identity and it winds up looking like one of these pictures:
Your body is beautiful but you think you should never touch yourself down there
You become sexual only once you get married
Your life is a never-ending cycle of jacking off and then pretending that you never jack off
Sex is great but you wonder if you might become a better person if you suppress sex more
Sex feels good but you don't find yourself in it
Sex still feels good but you don't find your partner in it either
You feel guilty. You still feel guilty
You feel there's got to be more
I'm thinking you're right.
There Is More!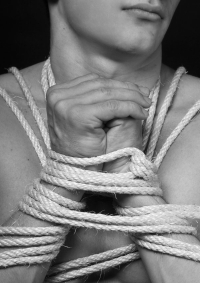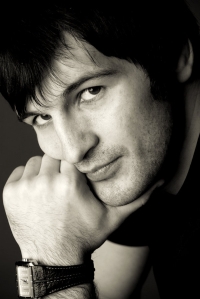 I have to be honest…
You already know the quandary. You are certain that your sexuality is busting with the keys to become magically and profoundly one with another person.
You're certain that you were created a sexual guy…
and because your sexuality is so amazing, powerful and pleasurable, it can't possibly be at odds with all the facets of your life:
your family's views
your social life
your marriage
your spiritual life
You know it's true. Right?
The fact is your sexuality is at odds with everything in your life. Why do you think it's such a secret thing?
You're compelled to keep this secret.
You feel never-ending guilt.
And… You wonder if anyone really knows you
Where's the fun in your sex life?
You need someone who can help you lighten up and return to your male roots!
Yeah. I know. I know all too well.
That's why I wrote the book. Because there's no sexual reason why you or I should feel guilty or secretive about our sexuality. Guy masturbation is at the root of all guy sexuality. How you feel about masturbation directly touches how you feel about being a guy — how you feel about sex with your lover.
I wrote the book with you in mind. The book is light-hearted, funny and direct. I don't use sexual "code", but I say it like it is. Kind of like your jackin' coach. Right?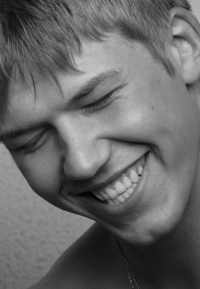 Reading

What Guys Do

, you will learn exactly how to:
Masturbate if you're a newbie
Have relaxing fun while you masturbate — fun that makes you laugh
Reach new personal and spiritual depth in your personal sexuality
Add creativity and inventiveness to solo sex
I can't think of a guy who isn't desperate to shake off his sexual heaviness and enjoy his male sexuality! Are you ready to lighten up?
Some amazing things that will be yours when you own What Guys Do: 101 Male Masturbation Techniques
Never again be at a loss for an original Masturbation Idea!

You will learn to make your solo sex and partner sex long and creative

Learn to ejaculate only when you want

Learn to make masturbation relaxing, de-stressing and FUN!

Combine masturbation techniques and create wild experiences using the What Guys Do Combination Cross Reference
You will learn to love and cherish your own body without guilt so you can freely give your love to others
Discover the all-time best masturbation lubes!
Masturbation is totally free — learn to make jackin' toys at home
70 pages which will literally jerk you out of your sexual rut
7 articles that take you deeper into the nuances of masturbation

Masturbation has never been so highly organized from Abs to Anal, One Hand or Two, Tips & Toys, Acrobatics to Lubes, Penis or Posture, Deep Orgasm or A Sea of Semen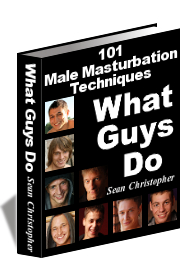 From a father who gave What Guys Do to his son:
"He LOVES your book. He laughed and laughed. He says he never dreamt there were 101 ways to do it. I told him there are probably many more."
What Guys Do is months of fun!
"Your magic worked. The book was there and easy to open. At first glance-Wow!! So-o-o many ideas and only 2 hands. This will be good. And, sir, the photography is amazing and very well done and placed. Over the next weeks I'll explore." –D
Another happy guy!
"Sean, dude thank you SO SO SO SO much. i really really appreciate the book! I am enjoying it already! It is really really well done!" –W
Readers of What Guys Do are delighted!
"Thank you Thank you. Just to read someone telling me to try these things – with such joy, abandon, freedom, affirmation and love is amazing. I don't think you know what it's like. I'm sorry you're on the giving end…cause it is amazing to be on the receiving end!" –P
Dude! Don't sit there and pant! Don't wait! Scroll Down To Order Now… or read on…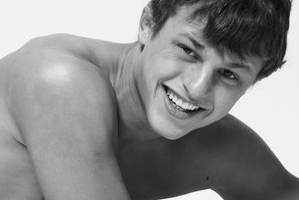 Why Should You Immediately Act on This Offer? I'll give you not one reason but three!
Order Now Because — after a couple weeks of intentionally pleasuring your own body in new and creative ways, you will learn that your sexuality is not something that's annoying or untethered. You need to love yourself before you can truly love others. Sexual expression begins with a guy's own genitals. When you own this new work you will cultivate that discovery again. You will become comfortable in your own skin.
If you need more reasons than that…
Order Now Because — You have absolutely nothing to lose — Even if you think "Well, Maybe," go ahead and order now! If you decide that my 101 Male Masturbation Techniques book isn't for you, Hey! no hard feelings. It's fine. You have 60 days during which you may get a complete refund. No questions. No worries. No risk. I know it sounds incredible, but it's true. I'll give all your money back.
Order Now Because — I've decided to keep this price really low. I think it's an important work for any guy, but I especially want to make it a very easy decision for young guys who are in college, just starting out or with a low income. You have to admit, it's almost a give-away. Order immediately, because the price could go up tomorrow!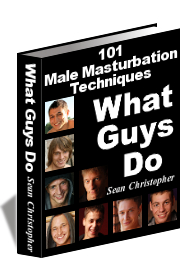 Normally What Guys Do: 101 Male Masturbation Techniques is priced at $24, but I know that economic times are tough. I'm feeling it pretty seriously myself. I spend most of my days helping economically disadvantaged guys find jobs. I know all about how it feels.
I spent the better part a year working on What Guys Do. I know that there is no other book out there like it. Anything else you might find will be either undignified or clinical. I wanted to create a piece that was both helpful to guy sexual growth and fun! So, I thought "What about creating a piece that helps guys both enjoy and respect their own bodies AND make it beautiful with photographs of guys just like readers?
So I did. And you, my friend, can read it, read it again, experiment with your own body and return to your own roots of maleness. You and you enjoying the gift with which you were created.
After a few weeks of boundless fun, you'll notice a free feeling, a cleanness that's being a guy who is at home in his own skin. And it will show in all your relationships — especially with your lover because you're not hung up about cherishing yourself.
For A Limited Time
Your Copy Of
What Guys Do:
101 Male Masturbation Techniques
Is Only
$3.99!
A $24 Value!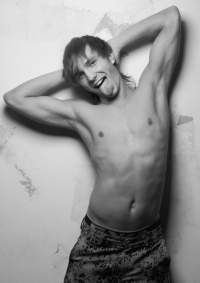 Here's How to Immediately Get Your Own Copy of
What Guys Do: 101 Male Masturbation Techniques
For your privacy your card or PayPal will be discreetly billed for only $3.99 with the name "CLICKBANK." There will be no reference to your specific product on your credit card or bank statement.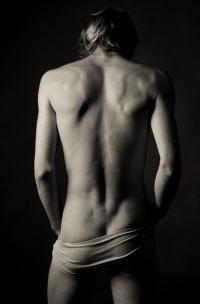 Once you have ordered on the secure server, you will be taken to a special download page where you download the book. Your download information will also be emailed to you by ClickBank. You can access it again in the future if you need to.
The book is in PDF format, which can be viewed on any computer (PC or MAC) and most tablets and smartphones. You may print out the pages if you like or you can read the book right on your computer screen.
It's a total no-brainer! For way less than the price of a pizza, you will have a boatload of fun, de-stress and recharge your sexual relationship. Not only that, but I'll also give your money back if you change your mind. Not a problem!
Don't wait another minute! You'll have your book in one minute and be laughing your way to an orgasm in two.

Order
What Guys Do: 101 Male Masturbation Techniques!
by Safe and Secure Server
You will receive instant access to your book any time day or night!
Click here to Contact Me if you have any questions or problems with your order at all.
Thanks Very Much For Your Order!
I'm sure that you'll enjoy 101 Male Masturbation Techniques. I hope you create a new sexual liberation for yourself and have loads of fun doing it! Clean up and then drop me a note and let me know how you enjoyed What Guys Do.
Peace,
Sean Christopher