Three Keys To A Conscious Hand Job
The quest for the optimal hand job technique has challenged the most inquiring minds for as long as anyone can remember. Discriminating guys argue over the optimal water temperature that goes into a perfect cup of Chemex coffee or how many minutes to cook the perfect hard-boiled egg.
Things like coffee, eggs, and stroking the dick of someone you're fond of stymie guys' minds, but we never give up the pursuit. The season finale of Silicon Valley a few years ago culminated with a dick joke attempting to calculate how long it would take to jerk off an entire room of techie guys. You can look at the actual Stanford mathematics paper considering shaft length, girth, and time since the last gratification. We know you can prove an awesome hand job with math, but let's take the question across the hall. Let's consider the question with fine art.
It Takes One To Know One
Few would argue with the opinion that a penis owner is able to give the best hand job to another penis owner. The reason is simple. If you own a penis, you've had a lifetime of learning both the conscious and non-conscious skills of playing your penis well. Your penis gives nuanced feedback and your hand doesn't think, it just does.
Yes, the owner of a penis comes with a natural ability to pleasure dick — any dick.
That may be true, but hand jobs are an art, an acquired skill, and anyone, once understanding the basic elements of a fine hand job, can wow the owner of a penis with a hand job they will remember in their heart and soul forever. Gender, orientation, and genital equipment are irrelevant. All that's needed for a conscious hand job is good hands, an expectant cock, and a generous heart. That's good news!
Why Chopin Is Better Than Chopsticks
While I'm sure Chopsticks was at one time an amazing piece of music, no one plays it like art. It's played like a joke. Hand jobs are no different. A hand job isn't a thoughtless act or a task to complete. That'd be Chopsticks.
A hand job is a conscious act of affection. Your partner's penis deserves Chopin. Your partner is allowing you to fondle their soul. Rather than Chopsticks, bring something like Chopin's Étude op. 10 No. 1 in C Major.
Approach your partner and their penis like you're about to create fine art like you are about to wow your friend with their most personal part in a way they've never experienced. Approach your friend with the reverence and hush of an audience that anticipates they are about to be stunned, moved to their soul.
Play your partner's dick like Chopin. Play it like fine art.
If you're gracing someone with a hand job, you're all set. Just read on. If you anticipate receiving a hand job, you might consider forwarding this post.
Know Your Hands — Your hands, fingers, thumbs and palms have wild versatility.
Know Your Partner's Penis — Whether or not you own a penis, know the zones of your partner's penis and the sensations they provide.
Play With Emotion — Engage your own heart and give something emotionally to your partner's pleasure.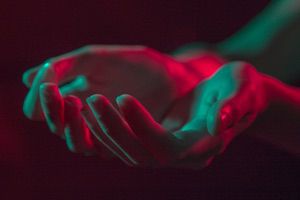 Know Your Hands
Your hand is more than a tube to stick over a dick. Your partner can easily get one of those at the Fantasy Emporium for $7.95 if that's all they want. Like the pianist ready to play Chopin, your hands are designed to extract the most exquisite pleasure from your partner's penis and deliver it to the very center of their soul. To do this you need to know the incredible dynamic of your hands.
PALMS Your palms are designed to cover broad areas of a penis while at the same time giving your partner maximum skin-to-skin contact. Use your palms to stroke the top side (dorsal) side of the penis and stroke the head (glans) of the penis. This way, you're reaching many nerve endings all at once.
FINGERS Likely, you have ten fingers and like Chopin, an awesome hand job requires your fingers to be playing in concert with one another. Fingers work independently of one another. People giving hand jobs forget this and simply form a tube with their fingers. Your fingers need to do more than form a tube. Fingers need to all be moving all the time like the fingers of a pianist. As your hand is stroking, your fingers are caressing, making music, reaching a soul.
Learn to use the length of your fingers as well as the pads and especially the tips. All the parts of your fingers provide varying sensations, pressures, and motions in a conscious hand job.
COMPRESSION (Squeeze) As with Chopin, some parts are loud and some parts are soft. Your hand compresses your friend's penis more or less according to the emotion they need you to create. Remember that your hand has a lot of strength—be careful. Sense their need and know that your hands have the ability to compress from a gentle, barely detectible brush to a strong, bold, long stroke along the full length of the penis shaft that will send them to the moon. Your squeeze can vary depending on the part of the penis you're massaging. Your hand may even pulse if this delights your partner.

Know Your Partner's Penis
As playing Chopin, a piano has eighty-eight keys, and your partner's penis has likely this many or more zones and subtle places that possess the capacity to create emotion. As no two pianos are alike, no two penises are alike. Know your partner's penis. One awesome way to learn about your partner's penis is to join them when they masturbate. Sit behind them and watch them stroke their dick from their perspective. Look for the subtle motions, pauses, variations in speed, and how it all relates to their physical and emotional response.
You won't do exactly the same. You'll do what you do. A hand job is completely different from masturbation. You're just learning how a penis takes touch. However you choose to learn, here are the basics.
TOPSIDE (Dorsal) The dorsal side of the penis gives less of a zingy and more of a deep orgasmic effect. The result isn't immediate. Stroke the dorsal side for short periods and again from time to time. This will build orgasmic tension. Attention here with your thumb or palm will take your friend further and deeper in their pleasure experience.
BOTTOM SIDE (Ventral or Frenulum) The ventral side of the penis generates a quicker ejaculatory effect. Playing here with your fingers from the tip of the penis all along the bottom side will take your friend quickly to spending their cum if you're not careful. If they want to last longer, be cautious about how much you stimulate along the frenulum.
HEAD (Glans) The glans penis contains the wow factor in the penis and interestingly less of the ejaculatory factor. The head of your partner's penis has a high concentration of nerve endings making it very sensitive. The palm of your hand cupped over the head or the tips of your fingers playing with the opening (meatus) or the edge of the glans (coronal ridge) will quickly escalate arousal. Be attentive to your friend's response to know how long they want this intense arousal.
FORESKIN (Prepuce) Not all penis owners have a foreskin. If your friend's penis has one, you can gently stretch the foreskin and move it over the head of the penis as a sort of glans massage. The foreskin provides lubrication over the head of the penis. It serves as both protection as well as a pleasure enhancer for intercourse, masturbation, and hand jobs. Let your friend guide you as you stroke the head of their penis with the foreskin.
BALLS (Scrotum) The scrotum and testicles contained inside enjoy their own very subtle but full pleasure. Your fingers can periodically swoop down and stroke behind the scrotum, gently tug the balls and massage the scrotal skin. Or use one hand to play with the scrotum while the other plays on the penis.
Play With Emotion
Your emotion is detectable in your hands. Just as a pianist approaches their instrument with intention, inspiration, and focus, your partner's penis will know if you're emotionally engaged in this hand job. Before you first touch your partner's penis, find some erotic energy inside of you — a memory, fantasy, your own genital energy, feelings for your partner — anything to contribute positive energy to their pleasure. Remember, you're contributing energy, not taking it. Don't touch your partner's genitals out of your own need. Better to wait.
In addition to what you bring to a hand job and your partner's experience, be sure when you, at last, take your hands away from their genitals that you remove your hands slowly and consciously so as not to remove any of the pleasure but leave only positive, supportive energy.
Now, when you hold their penis, you will hold it with the same delight that they experience.
Play your partner's penis like Chopin. Now, you have the three keys.
Photo by Tadas Mikuckis on Unsplash