Still Don't Know The Secret of Fleshlight? It's In The Advanced Techniques
While most of us love the purist vegan-like pleasure of five fingers to masturbate, it's always a pleasure to succumb to an enchanting tryst with an amazing male masturbation toy. I've found no better partner to romp within a solo sexual soiree than Fleshlight.
7 Advanced Fleshlight Techniques
The magic of a male masturbation toy isn't profound, but it may have eluded you. While guys cultivate a trusting and compelling relationship with their hand, a masturbation toy brings with it an exciting and often surprising quality of a sexual "other" — a fabricated fuck buddy if you will. A masturbatory relationship with your hand, while swell, consistently leaves you fulfilling both roles of a sex adventure processing sensual feedback at the ends of your fingers as well as your dick. A masturbation toy like Fleshlight on the other hand lets you invite your "other" to sexual frolic and still play solo leaving the pleasure only in your dick.
Meet Your Solo Sex Partner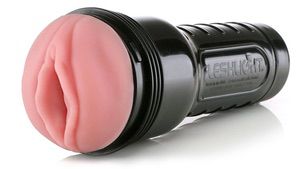 This fuck buddy is a traditional model. The basics and essentials of your toys aren't obscured by extras which allows you to create sensual scenarios on the fly. Sex fun is most fun when you play with your imagination. This Fleshlight has a black case with a pink lady orifice and Wonder Wave insert. You can get all sorts of openings: vulvas, anuses, neutral and precision forms of your favorite porn stars. There is also a variety of insert textures and tightnesses. You can also get the Fleshjack version with nice male-male play features. For sure something for everyone. Which model you select doesn't impact these advanced masturbation techniques. All the models are great. Pick one that intrigues you. You can't go wrong. See the link below to do your own shopping.
Don't have a Fleshlight and want your own? You can get yours here: Want My Fleshlight! Or here, if it's a Fleshjack you're seeking: Get My Fleshjack!
#1 Foreplay with Water and Lube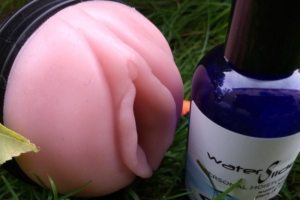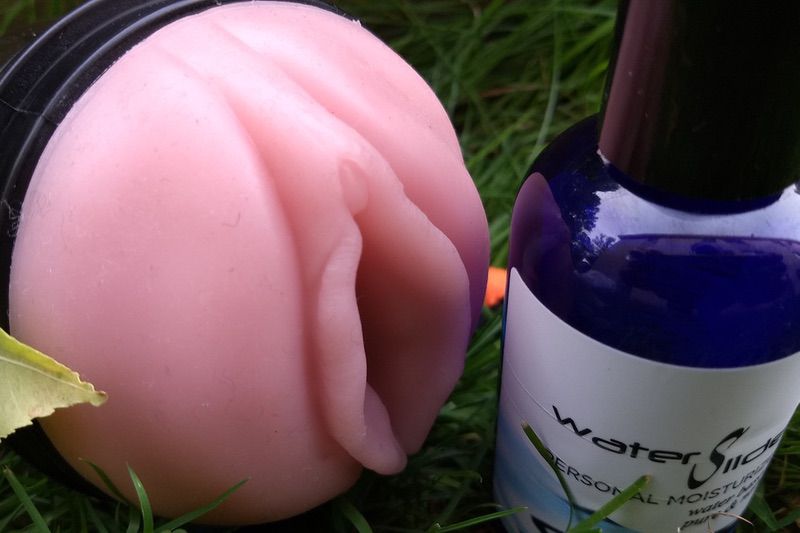 With the only exception of your hand, all sex partners require a little time to prepare to play and Fleshlight benefits from a little foreplay as well. While silicone lube is nice for non-silicone toys, you should only use water-based lube with a Fleshlight. I like Water Slide by Earthly Body. It's a water-based lube with carrageenan to extend its slippery life. And it does. In a Fleshlight, Water Slide lube lasts and lasts. They also add no phthalates or parabens — an important feature for male sexual health. Fleshlight undresses by removing the large cover of the "flashlight" unit revealing the seductive entrance of the insert waiting for your cock. The insert is made of a patented Superskin material. It's surprisingly squishy unlike other silicone and jelly masturbation materials. Remove the insert and run a little warm water through it to freshen it and warm it ensuring a cozy welcome. Pop the insert back into the case and apply some water-based lube to the orifice as well as your penis. Lube seems to flow throughout the Fleshlight with the first few strokes so don't worry about getting it all the way down the canal. Also, open the small end of the Fleshlight a half-turn or so to relieve the vacuum until you're ready for it later. TIP: As you play with any of these techniques, you can add a few drops of water or lube to achieve the slickness you like best.
#2 Flaccid Entry
Is a hard dick a prerequisite for Fleshlight masturbation toy play? Nay! Sadly, many aspiring masturbators erroneously assume an essential erection. Toy play with a flaccid cock is fantastically fun. Hence, you should experiment to see how easy it is to enter with your own soft cock. With all the Fleshlight excitement, it can obviously be difficult at first to produce a soft cock for the trial, but with a little concentration, you'll succeed. One caveat: Sufficient lube is important for flaccid penis play. See technique #1. Fleshlight presents a challenge to any soft cock upon first attempt. With copious amounts of lube all over the Fleshlight orifice— first your penis and then your fingers — your attempts to stuff your elusive cock into the now beckoning orifice will result in no small amount of giggling. Once, though, you get enough of your cock inside the orifice, you simply pull the entire unit toward you and against your pubic bone. You will feel your penis slip past the tight entrance and into the Fleshlight canal. The initial sensation is of the Fleshlight pulling your penis inside and the warmth and embrace on your member. You'll wait a few moments and enjoy the sensation of your soft cock. Surprisingly, you can stroke a soft cock with the Fleshlight. Simply tug on Fleshlight enough to stretch your cock a bit, but without pulling your cock out of the orifice. Then pull the unit tight against your pubic bone and you'll feel the Fleshlight suck your cock fully back inside. It's nice.
#3 Advanced Stroking Techniques
If fast and furious is your stroking style, this advanced technique will acquaint you with the finer, more sophisticated qualities which Fleshlight masturbation affords.
First, slow down. Tease only the head of your penis circling the Fleshlight as if it were a joystick.
Withdraw your penis altogether for a minute or two to allow sensations to recharge. Once you enter again, your revived cock will send it's thanks.
Finally, enter deep. Pull the Fleshlight against your pubic bone tight and slowly grind it. Feel the sensations at the end of your dick as you probe deep. This is subtle, but this alone, is almost worth everything.
Adjust the small end to control suction. With the end closed tight, you'll feel maximum suction giving you a tighter feel on your penis and more tug. Open the end a little and your glide will loosen giving you less tug and more ease of movement. Experiment!
Don't have a Fleshlight and want your own? You can get yours here: Want My Fleshlight! Or here, if it's a Fleshjack you're seeking: Get My Fleshjack!
#4 Hands-free Thrusting
Inventive minds dream up stuff like this when a dick longs to be poked somewhere — a sandwich bag beneath the couch cushion or vegetable or piece of fruit. Fleshlight, though, is genius when it comes to hands-free thrusting. And guy hips love to thrust. Be warned. Hands-free thrusting will drop you perilously close to coming. Stop and rest, if you're not ready to come. Find any household crevice or place where you can wedge your fleshlight at dick height. Between the couch cushions if you want to thrust on your knees or between the mattress and box spring. Or you can hold the unit down with your hands on a table or some such surface and stand and thrust. Stick your Fleshlight in a shoe or slipper — placed at the right height, it's a nice angle for thrusting. Fleshlight is solid enough to stay where you wedge it and you sate your urge to thrust your dick with your hips.
#5 Humping
Yes, humping is different from thrusting because you're face down. Pillows aren't just for heads anymore. They're awesome Fleshlight holders. Fashion a hump using two or three pillows and lodge your Fleshlight between. Now, drape your body over the hump you built and expertly guide your dick into your Fleshlight. The first time, you'll likely adjust the thickness, number, and configuration of your pillows so that your hips are comfortable and your dick enters at a comfortable angle. Try it a few times — you'll get it. There's no limit to the number of variations to this technique, but here are three:
Position your pillows, Fleshlight and body so that you can lay on your side and enter. It's a great position for longer sessions as you're not aroused so intensely. And you can get a much easier view of the action.
You'll need small or squishier pillows. Pull your knees up under you so you're face down and thrusting into your Fleshlight on your knees. This is a very intense position — use long slow breaths to control your ejaculation and extend your play.
Remove the insert from the case and set the case aside. Place only the insert between pillows (you may want to wrap it in a towel to protect your pillows from lube or semen). You'll quickly discover that playing only with the insert is a wildly different experience altogether.
#6 Edging with Fleshlight
If you're not already an edger, you might want to set a timer. For example, don't come before the timer goes off at 30 minutes. If you edge, you'll discover all kinds of sensations and crazy ways of edging with Fleshlight. You'll discover staying power you never knew you had. You'll discover the absolute wonder of your insanely aroused dick staying absolutely still inside. I hope you do. I really hope you do.
#7 Special Hacks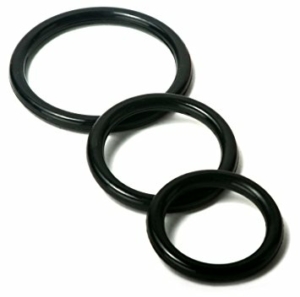 I already mentioned one hack in Advanced Technique #5 — removing the insert. Take the case off of your Fleshlight and set it aside and stroke only with the insert. It's a technique you'll definitely want to try. Get a rubber or nitrile cock ring — just the thin, black kind. They often come in a set of three sizes. Use the largest one. Slip it into the groove at the orifice end of your insert. Now, your penis will enjoy a very snug entry. As you enter deep, the cock ring will grip the base of your penis as you probe the depths of your Fleshlight with the tip of your penis. Quite a ride.
Don't have a Fleshlight and want your own? You can get yours here: Want My Fleshlight! Or here, if it's a Fleshjack you're seeking: Get My Fleshjack!
Your Ideas
Stroking your dick with a classic Fleshlight is likely what every guy imagines and probably what every Fleshlight owner does. You, however, are now armed with enough Advanced Techniques to enjoy your masturbation toy for years and spark innumerable ideas of your own.