Coconut Oil – Ma Nature's Best Sex Lube
To confuse a muffin ingredient with your best sex lube isn't all that odd when you realize that you love coconut oil in your coffee cake as well as on your cock.
I stumbled onto coconut oil's magic a few years ago when we were experimenting with soap-making, and found the combination of coconut oil blended with a number of other tropical and essential oils concocted some most luxurious soaps that were healing to the skin and left you gleefully anticipating your next shower.
While we imagined the lovely scent of our soaps and our friends and relatives dancing naked in their showers once receiving our natural gifts, we also discovered another magic. Coconut oil is not only a great base for soap, and one of the healthier oils in cooking and baking, but we discovered coconut oil to be the best sex lube we've found, yet.

If you've been reading health news at all in the last dozen years, you know that many of our foods, plastic products, and hygiene products such as shampoos, conditioners, and cosmetics contain phthalates and parabens which studies show may be involved in cancer but also mess with hormones, particularly in boys and possibly responsible for changes in genital size and shape. These chemicals can be absorbed through the skin. Think about that if you jack off with shower products. Genital skin is naturally thin and absorbent and you could be absorbing all kinds of toxic crap.
So, why use chemicals for pleasure when you can purchase, pure, natural coconut oil right from your grocer's shelf?
Some features of coconut oil as your best sex lube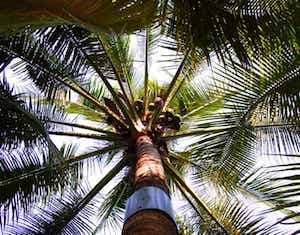 Coconut oil is good for your skin. It's soothing, doesn't clog pores, is anti-fungal and antibacterial.
Coconut oil melts at about 76° F. Store it in a wide-mouth jar with a loose lid on your nightstand for access when the urge demands.
No concerns for sheets and clothing as coconut oil is non-staining. When you're finished, no need to wash it off, just wipe off the excess.
For a sex lube, coconut oil boasts the perfect OG slick factor as it doesn't absorb quickly — nice for luxurious Tantric love with your partner or solo edging sessions. Use a little more for a slicker sensation; a little less if it's more friction you like.
After three years of personal enjoyment and reports from friends and colleagues, we've experienced nothing but benefit from internal use and penetrative sex.
Mix melted coconut oil — remember, just over 76° F. — with a little Jojoba oil for a remarkably enduring massage oil.
After you've enjoyed your espresso and blueberry scone baked with coconut oil, try these Water Spinach Crêpes with Coconut Cream Sauce, then enjoy the more erotic benefits of nature's best sex lube with your dining partner.
Photo by Towfiqu barbhuiya on Unsplash
—Photos Flickr / SteveR